Product Description
90° Angle Not Slant Marley Cooling Tower Fill Sheet
Marley Cooling Tower Fill

Details
Nowadays we developed Right angle No inclination cooling tower fill sheet, which is similar to Marley pvc fill sheet, but without inclination.
The length and sheet thickness could be customized.
Sheet Material: pvc, pp
Sheet Width: 720mm,820mm,920mm,1020mm,1120mm,1220mm,1320mm,1420mm,1520mm
Height(length): 1854mm,2260,any length
Thickness:0.27-0.45mm, 0.32mm,0.38mm
Install angle: 90°
Applicable Temperature: 65°C~-35°C.
Color: Black, grey
Shaping mode: Compression molding.
Mixnum order quantity:1000pcs.
Packaging: In bundle,wooden pallet or as your request
Features: High cooling efficiency; Small resistance; Large packing vent; Long service time
The following is for Marley Slant cooling tower fill:
Cooling Tower Operate Principal
Cooling towers reject heat from water-cooled systems to the atmosphere. Hot water from the system enters the cooling tower
and is distributed over the fill (heat transfer surface). Air is induced or forced through the fill, causing a small portion of the water to evaporate. This evaporation removes heat from the remaining water, which is collected in the cold water basin and returned
to the system to absorb more heat. Each cooling tower line, although operating under the same basic principle of operation, is arranged a little differently.
There are two main configurations of factory assembled cooling towers: crossflow and counterflow. In crossflow cooling towers, the water flows vertically down the fill as air flows horizontally across. In counterflow cooling towers, the water flows vertically down the fill as air flows vertically up.

Marley Cooling Tower Fill Introduction
1.MX Fill is available in MX75 configuration and higherperforming MX625 configuration. MX is a hanging film type
cooling tower fill which spreads the water into a thin film, flowing over large vertical surfaces, promoting maximum
exposure to air flow. This type of fill provides much more water surface exposure per cubic foot than splash type fill.
2.MX fill incorporates highly efficient cellular drift eliminators, integrally molded within the fill sheets. Compared with
previous designs, these eliminators reduce drift emissions from the tower by a factor of ten or more! Less drift means
tower owners save water bills and water treatment chemical expenses.
3.This fill virtually eliminates the nuisance caused by drift spotting on adjacent buildings and property. For additional savings
, the drift eliminators discharge air directly toward the fan. Discharge air, traveling in the right direction when it leaves the
eliminators, translates to lower fan horsepower.
4.Louvers are also integrally molded within the fill sheets preventing water from escaping and assuring precise air
distribution throughout wide variations in airflow. Unlike towers equipped with separate external louvers, this fill operates
virtually ice-free even in extremely cold weather.
5.MX fill is thermoformed from PVC with a flame spread rating less than 25 per ASTM E84 and is considered selfextinguishing.
Therefore, the risk of fire damage is minimal.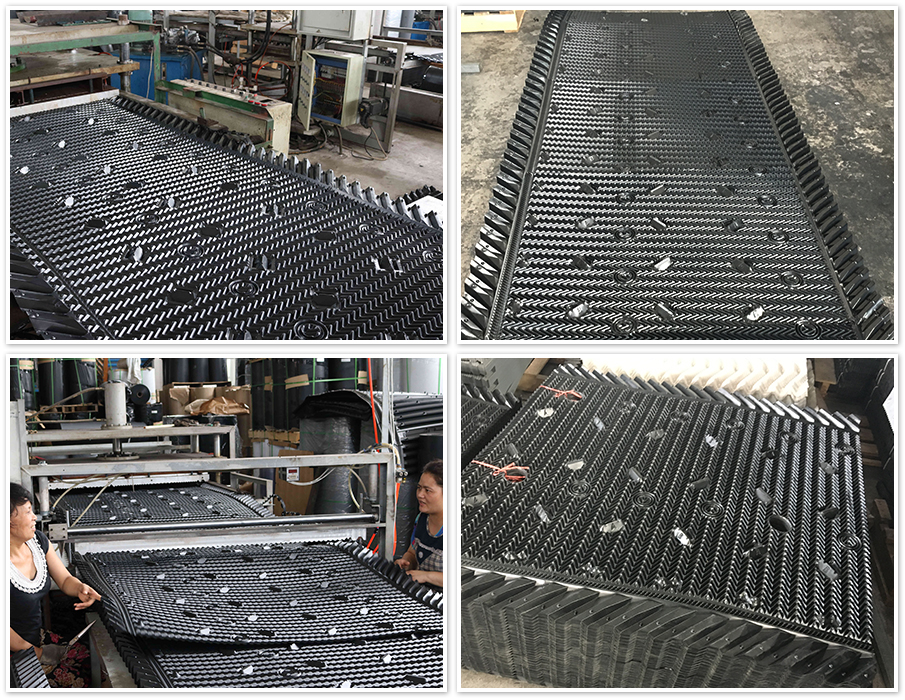 Contact Information:

Related Products:
Cooling Tower Parts:cooling tower fill,cooling tower spray nozzle,cooling tower air inlet louver,cooling tower drift eliminator.
Water Treatment Products: tube settler,water tank,bio ball filter media,fine bubble diffuser.