Product Description
To all our old or new friends:
Thanks for your visiting.Qunying screw, our is one of the best machinery parts supplier in China.We cooperate with many machine factories.We produce screw and barrel over 10 years in China,rich experience in producing or designing.Choose Qunying, you best choice!
 
Grade available:
1. Standard grade: 38CrMoAlA + nitriding 96 hours
2. Bimetallic grade: 38CrMoAlA + bimetallic alloy
3. TC-A grade: Tungsten carbide 40%
4. TC-B grade: Tungsten carbide 25%
5. TC-C grade: Tungsten carbide 9.5%
Or other according to requirement, we are rich experience in producing and designing!
Technical Parameters for double conical screw cylinder:
45/90, 45/100, 50/105, 51/105, 55/110, 55/120, 58/124, 60/125, 65/120, 65/132, 68/143, 70/135,
 70/140, 75/150, 80/143, 80/156,80/172, 92/188
1.Product: Conical twin PVC sheet screw cylinder
2.Material:38 CrMoAlA(JIS SACM645); 42 CrMo(AISI 4140);Cr12MoV(JIS SKD-11);4Cr5MoSiV1(JIS SKD-61)
3.Nitrided Hardness:HV900°~1000°
4.Hardness after hardening and tempering: HB260 °
5.Nitrided Depth: 0.4~0.8mm
6.Nitrided Brittleness: above 2 stage
7.Surface Roughness: Ra0.4
8.Screw straightness: 0.015mm
9.Hardess of surface chromium-plating after Nitriding: HV≥950HV
10.Chromium plating Depth: 0.05~0.10mm
11.Alloy Depth: 0.8~3.0mm
12.Alloy hardness: HRC56°~65°
13.Alloy(bimetallic): iron,nickel,tungsten,molybdenum
14.Types of screw barrel: Gradual type,mutant type,wave type,barrier type,double screen type,shunt type,separation type,exhaust type,pin type,mixed type,double-head type,three-head type,multi head type etc.
Scope of application
WPC sheet,pallets,pinch,pipe,profiles,soft pvc,pvc foam sheet,film,tape,recycled,tape tube,water pipe,drainage pipe,etc.
For good plasticizing effect,we have different designs of screw and barrel for extruder or injection to meet customer's demand.Our factory manufactures with high-quality material, applying the method of hardening and tempering and nitriding, thus it enjoys the characteristics of long working life, wear resistance, and anti corrosion. Besides, the technique of hard alloy spraying or chrome plating can be used on the working surface of screw, which will make it have better using effectiveness.
Packaging & Shipping
Above is our packaging.We are near Ningbo port and Shanghai port.It is good for exporting.Our conical twin screw and barrel conical screw is the best in CHINA.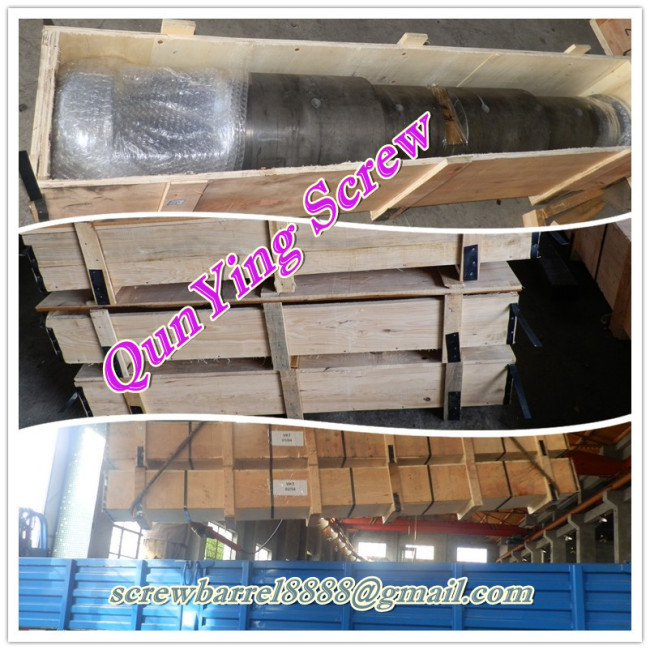 Our advantages:
1. Conical twin screw barrel for various models
2. Professional engineers design for you
3. Over 10-year exprience in this line
4. Insist on developing screw and barrel for more injection and extruder machine models
5. Main market: Southeast Asia,Eastern Europe, Africa
Company Information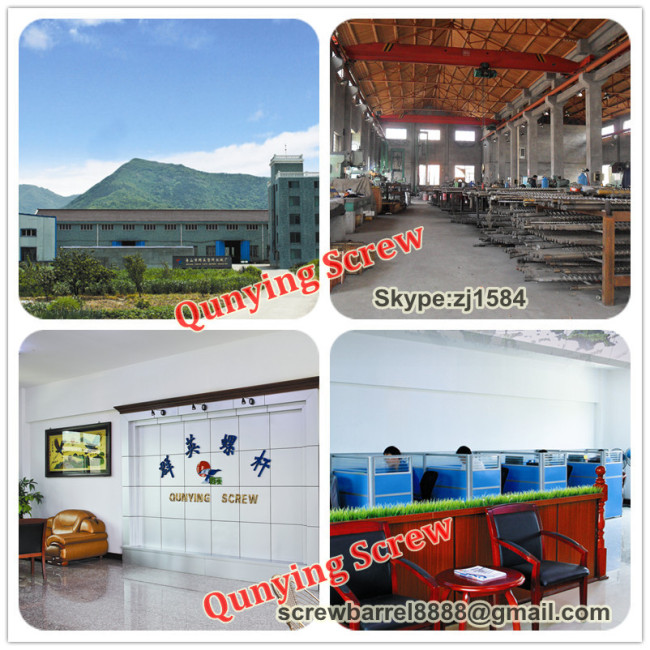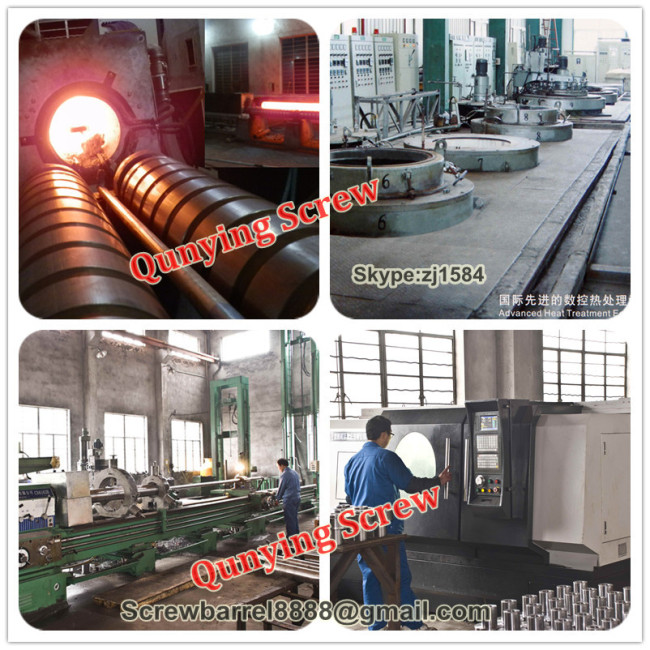 Our customer feedback after using.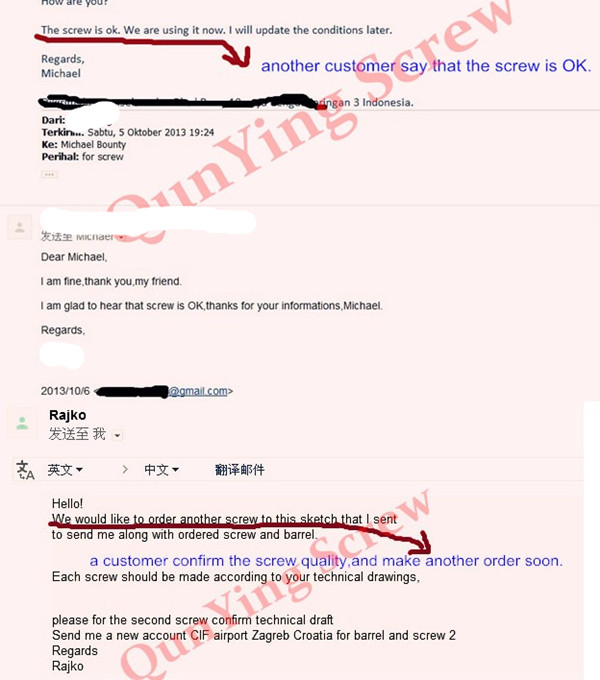 About US:
QunYing Screw is leading supplier of SCREW and BARREL in china,including designing,manufacturing and sales for these products,we can make any specification of extruder screw barrel and injection molding screw barrel for Haitian,Chende,Chenxiong,Demag,Engle,Nigrobossi,KMD,NPM,BOY,HUSKY,Nippon Steel,Toshiba, Nissei,Mitsubishi,CINCINNATI,BATTENFELD,KRUSSMAFFEI,BAUSANO,WEBER,AMUT and etc. We also can supply all types of screw and barrel according to your different requirements.